Listening to Sanjay Patel's interview on NPR's The World last week was a pleasant experience. Sanjay seems to be one hell of a creative person. He works on cartoon characters for Pixar. Having worked on hit animation films like "Monsters, Inc.", "Toy Story 2", "A Bug's Life", he has now written a book of illustrations about Hindu gods and goddesses. You can listen to his interview with The World here, and see a glimpse of his illustrations here.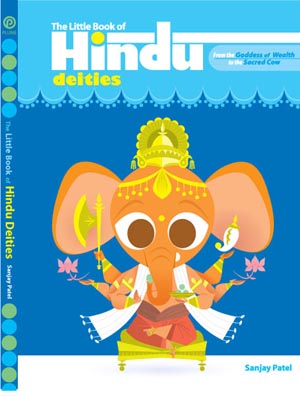 Sanjay has a neat website promoting his book and his art, and it is interestingly called gheehappy.com. It has an interesting profile of him, and has the only picture I could find of him – apparently his childhood photo. His profile says he was born in England and raised in LA, "but has never been to India" — sounds kind of out of context on his profile though, unless from his name or his book people would assume he comes from India.
In the interview, Lisa Mullins asks Sanjay about how he came to learn about the gods, and she asks as an example, about Kaama (of all Gods). It is hard to explain to the westerner how Kaama may be irrelevant to a practising Hindu. Sanjay Patel says when he was a kid, his parents came to the US and bought a motel in California, like so many Gujarati immigrants do. They lived in the motel, with one room reserved for pooja. His father would force him to sit in the pooja room every evening while the family worshipped, making him miss his favorite cartoon shows on the TV.
Are the cartoon protesters listening?