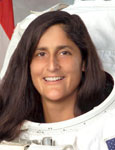 Under this category, InhiA (Indian names heard in America) I will be talking about just that – Indian names heard in America, and finding out how much of Indian origin the person is. What better name to start with than Sunita Williams, who is currently in space, assigned to International Space Station.
Sunita Williams was born Sunita Lynn Pandya on September 19, 1965 in Euclid, Ohio. Her parents are Deepak Pandya, a famous neuroanatomist hailing from Ahmedabad, and Mrs. Bonnie Pandya, who is of Slovenian origin. Sunita has a B.S. in Physical Science from U.S. Naval Academy, 1987 and an M.S. in Engineering Management from Florida Institute of Technology. She is married to Michael J. Williams.
Sunita who left for the space station on December 9, is expected to stay there for about six months. Here's a short (48 seconds) interview of hers from the space station, courtesy YouTube. Notice how her hair is flying in zero gravity.