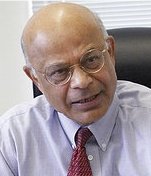 Continuing the series of Indian names heard in America, I am profiling Dr. Natwar M. Gandhi today. Dr. Gandhi is the Chief Financial Officer (CFO) for the District of Columbia (Washington DC). Born in Savar Kundla, Gujarat in 1941 in a grocers family, Gandhi has an LLB and BCom in accounting from the University of Bombay. He came to the US in the sixties, completed a master's degree in business administration from Atlanta University, and a doctorate in accounting from Louisiana State University.
Dr. Gandhi is responsible for Washington DC's finances, including its approximately $7 billion in annual operating and capital funds. Gandhi was nominated to this position by Mayor Anthony A. Williams and appointed on June 7, 2000. On November 6, 2001, the Council of the District of Columbia unanimously approved the Mayor's nomination of Gandhi to a new five-year term as CFO. His term expires next month, and from his successes in the city it is evident that he will only end up at a higher position in the district or federal government. (Update Jan-31/07: Dr. Gandhi has been reappointed by the new DC Mayor to his post in January 2007.)
This is what the Washington DC government website says about him.
When Gandhi joined the Office of Tax and Revenue (OTR) in 1997, the agency was in disarray. Its revenue base was shrinking, and employee morale was sinking. Under his leadership, OTR demonstrated a remarkable turnaround. Successes included collecting substantially more in tax revenue than in previous years, turning projected city deficits into huge surpluses; issuing more than 150,000 tax refunds within 15 days during the 1999 and 2000 tax-filing seasons; and establishing a new one-stop, walk-in Customer Service Center to improve public outreach.
In an interview with the Washintonian, Dr. Gandhi says he was born in a village with no electricity or running water, and came to the US with seven dollars in his pocket.
To read more about Gandhi's achievements, and hear his radio interview visit the Business of Government website.