NDTV reports that Burqini, a combination of Burka and Bikini is becoming the new craze among Muslim women in Australia. Reportedly, this swimsuit designed specially for Muslim women wanting to swim in public swimming pools or beaches, has enabled them even to work as lifeguards. Watch out Baywatch!
BBC has a video report on the Burkini. A detailed report appears on BBC Hindi, but I couldn't find a text report in English.
"Not just Muslims veil people, there are also (other) modest girls that want to enter the water but just don't want to get into a bikini… this is not just a modesty aspect kind of a swim suit, it is also a protection against the sun, surf and sand," says Aheda Zanetti, Burkini Designer. Do you think other "modest" non-Muslim women will try the Burkini out, or will the stigma associated by non-Muslims with a Burka keep them away from it?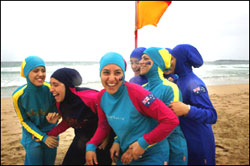 On designer Ahiida's website, the Burqinis cost 170 AUD (133 USD) in slim-fit style, and 190 AUD (149 USD) in "modest-fit" style (exchange rate courtesy xe.com). Looks like the extra cloth needed for that extra bit of modesty bumps up the price more than 10%. Are the beaches ready for more color and less skin? Or is this going to turn into another spat between Islamophobia and Islamofascism?
Meanwhile, blogger Publius Pundit claims that "Enforced modesty is not really modesty".
It's just another hazard of being Islamofascist that no burkini will ever cure.
Well, I have seen exceptions to this premise, as I see many educated Muslim women donning and fighting for the hijaab. Foxes me, though.