News! Now US State Department has an office of Special Representative to Muslim Communities (SRMC), and Hillary Clinton has appointed Farah Pandith as its head. So, who is Farah Pandith?
According to the State Department press release,
Pandith, a Muslim, immigrated to the United States with her parents from Srinagar, India. She has said that she sees her personal experience as an illustration of how Muslim immigrants to the US can successfully integrate themselves into American society. She grew up in Massachusetts with a diversity of faiths, ethnicities and perspectives.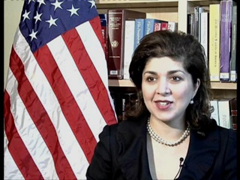 So, Pandith is of Indian Kashmiri origin, coming from the same region as this blogger.