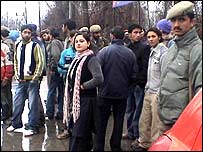 Today, an enthusiastic member of my community sent a link to this BBC news item around: Indian Idol creates Kashmir stir. Her accompanying message said, "This is great news!". It made me happy too. Hundreds of Kashmiri kids had lined up for a chance to be the next Indian Idol. They had flocked to the Srinagar auditions of Sony TV's music talent show, in spite of terrorist threats. Obviously Indian forces must have been standing guard.
Why did this news make us happy? Why does it make us Indians happy when Kashmiris want to be Indian idol?
Why does it irritate the separatist Kashmiri bloggers when Indians call Kashmiris their atoot ang (inalienable part)? They want India out of the valley. Due to the special status the state enjoys, and due to the movement of terror run by the militants, it is hard for outsiders, and some sons of the soil, to more than temporarily visit the valley. They cannot work, live and own property there, while Kashmiri Muslims can live, work, study and own property anywhere in India. Rightfully so, as Indian citizens they study in the best institutes of the country, hold coveted jobs in the central government, trade in Delhi, Kerala and Mumbai, and have winter homes in Jammu and Delhi. And they are the ones complaining. I read references to the word "hypocrisy" in most of these blogs. It seems it works only one way.
The BBC report by Kashmiri journalist Altaf Hussain also talks about militant threats against such programs, enforcing dress codes, etc. I wonder why these blogs don't talk about independence from these threats.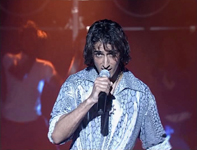 On another talent hunt show, Fame Gurukul, a Srinagar kid Qazi Touqeer was voted by the Indian public to be the winner. I hope they find some good talent this time too. I grew up with a close KM friend singing melodious Kishore Kumar and Mohammad Rafi songs. He was so good, I wish we had such talent shows those days. Now he teaches in a higher secondary school in South Kashmir. Last weekend he called to tell me the good news that he has purchased land in Jammu for his winter home. Congratulations.